Why this September is the time to consider an Apprenticeship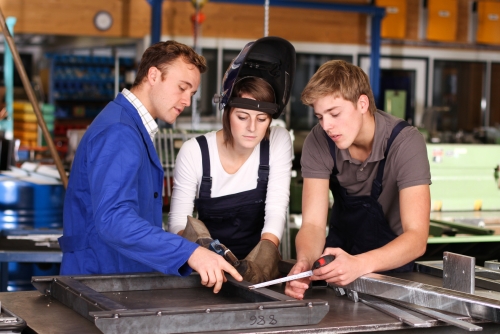 As autumn draws in and the last of the summer sun is drifting away it can feel like everything is moving on without you. Friends and brothers and sisters go back to school or leave for university, parents go back to work but if you havenít got another year of school planned or a job yet it can seem like you are left behind but that doesnít need to be the case.
This September hundreds of young people are expecting to start Apprenticeships and you could be one of them!
1. More people than ever are doing it
The amount of people taking apprenticeships has risen and the amount of people going to university has fallen. Trends show that more people are now considering taking an Apprenticeship because it means that they can start doing something they love practically as well as learn about it. The competition is high and you need to make sure that you come out on top!
2. You get paid instead of getting into debt
Unlike university where you have to pay to attend at an Apprenticeship you will start earning from day one. Your employer will invest their time into you because they are investing their money into you and so will want you to succeed.
3. You can still go to university after
You can start an apprenticeship from the age of 16 meaning that you can be ready to go to university still if this is your long-term plan. You will have practical experience and a work reference that will put you ahead of other candidates. Some employers will even support employees through university if that is their goal.
4. You become part of a mature environment, working with lots of different people
The great thing about the working world is that you get to meet lots of new people from different backgrounds and lifestyles. You will notice that you mature a lot quicker, are more confident and have good personable skills before no time!
5. You will have skills that all employers look for
It might sound basic but you will learn basic skills that will take you a long way when you apply for jobs later or progress within the company. This could be taking calls, writing invoices, social media marketing, even being able to make a good cup of tea and coffee is always a positive!
What are the benefits of apprenticeships?
Apprenticeships are great especially if you want to move away from the structured school environment. Apprenticeships get you out there into the real, working world. Not only will you be earning a wage but you will also be gaining the skills and experience that you need to have a successful career many years on.
So how do apprenticeships work?
Firstly at the start of an Apprenticeship you sign up with a training provider (like us) and we find a placement for you in a real working environment. You will be given an assessor who will work with you throughout the duration of your apprenticeship who will provide support, information, advice and guidance.They will come to your work place and carry out observations and help you with coursework and at the end they will assess that you have passed all the stages and are ready to become a regular employee.
What can I do an apprenticeship in?
Here at Apprenticeship Recruitment we offer apprenticeships in:
Health and Social Care
Childcare
Youth Work
Playwork
Business Administration
Customer Service
Hospitality
Catering
Retail
IT
Construction
Warehousing
Pharmaceutical
Social Media/Digital Marketing
Sports and Fitness
How do I apply
Call us to discuss your options with one of our advisors on: 0121 707 0550
E-mail:info@apprenticeshiprecruitment.co.uk
Visit:www.apprenticeshiprecruitment.co.uk
« Go back to previous page