Meet Pathway at The Skills Show on 16th November @ The NEC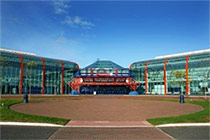 Pathway Group have been invited to attend and are exhibiting at the Skills Show this year, to be held at the NEC on the 16th of November. The Skills Show is a fantastic opportunity for young people to explore what is available to them in relation to Education, Training and Apprenticeships, as well as giving individuals the chance to try out new skills and discover more about what Pathway have to offer.
Pathway Group works closely with each young person, to identify their next steps, whether that is taking up an apprenticeship, or signing up for Foundation Learning or the Advance Programme. We have staff that are experienced, qualified and focussed on helping young people to realise and release their full potential.
Pathway Group work diligently with employers to identify their apprenticeship needs, discuss how apprenticeships can benefit the future growth and development of their business and to support them during the initial weeks of the apprentice starting.
Come and meet us at The Skills Show to find out more about what we do – we look forward to meeting you – please book directly via http://www.theskillsshow.com/book-the-skills-show/
For more information about our services please visit www.pathwaygroup.co.uk or call us on 0121 707 0550.
« Go back to previous page